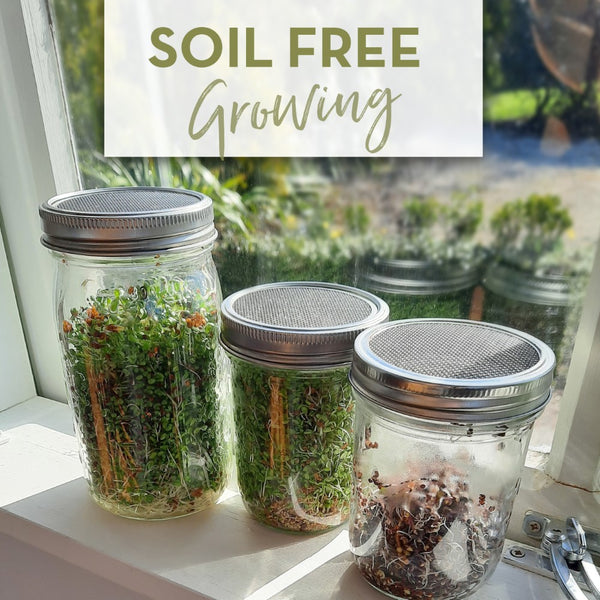 Sprouting Lids Kit - Grow Nutritious Greens Anywhere
Grow seeds without soil
Turn your windowsill into the garden of your dreams with these seed sprouting lids.
Designed to fit on standard, wide-mouth mason jars, these lids produce greens within a few days.
Newly germinated seeds that haven't grown leaves yet, sprouted seeds are full of vitamins, minerals, fiber, proteins, and amino acids.
Quickly grow an assortment of sprouts, including:
Broccoli sprouts
Alfalfa sprouts
Mung bean sprouts
Sunflower sprouts
Chia sprouts
Radish sprouts, and more!
The perfect solution to urban home gardening, sprouting lids also make a great gift for beginner gardeners.
Instantly spice up your salads, wraps, and stir-fry with nutritious, homegrown microgreens.
Why We Made This
We are always looking at ways to combine nutritious with delicious and sprouted seeds deliver on both goals. In 2013 we started selling sprouting seeds mixes with names like "Tasty Bits" and "Lean Bean."
We got excited by sprouting seeds like snow peas, chickpeas, and red cabbage. Sprouting was way more interesting than just mung beans and alfalfa sprouts. Eight years later, we're still sprouting seeds, and what we've learned about how to sprout seeds is here in this kit.

Product Specifications
3x Stainless Steel mesh sprouting lids
3x Stainless Steel bands to fit wide-mouth mason jars
1x Guide to Sprouting Seeds at Home 
Plastic-free packaging
How To Use It
Measure and wash seeds
Soak to activate
Keep jar and lid in a warm place
Rinse and drain twice daily
Rinse and dry sprouts
Care Instructions
Dishwasher safe
Dry completely before storing
Learn More
Looking for the perfect mason jar to start growing your seeds? Look no further.
At Country Trading Co., we love to grow, make, bake, and create good eats. That's why we pride ourselves on offering the highest quality kitchen tools and gardening supplies. 
All our products have undergone extreme testing to ensure complete customer satisfaction. Our range of home goods will inspire you to make some magic.