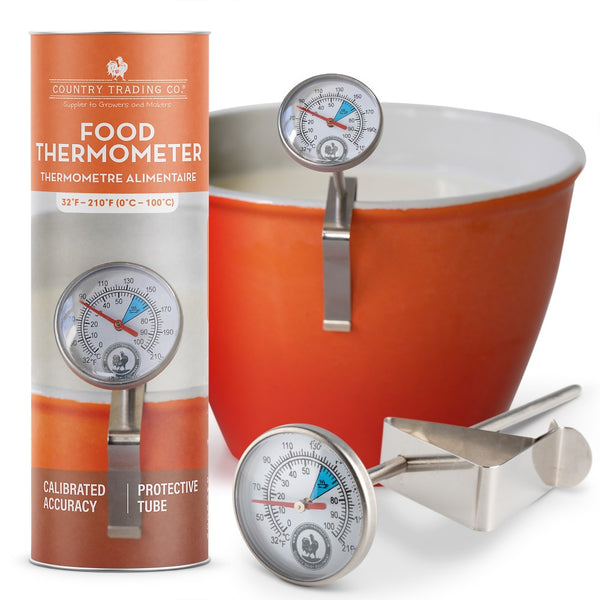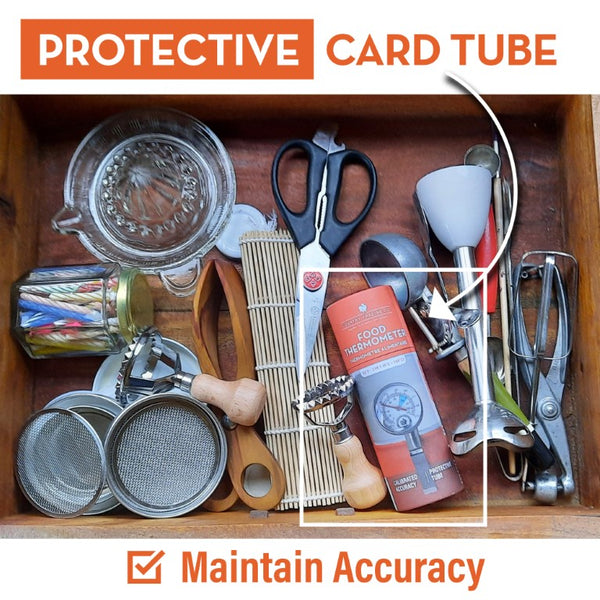 Food Thermometer with Protective Tube - No Batteries
The Secret to Perfect Cheese and Yogurt
When cooking meats and making cheese and yogurt, temperature control is crucial.
That's why our thermometer has been calibrated for accuracy to deliver precise readings fast.

It features a 5" long stainless steel shaft, a large 1.37" dial for easy reading, pan clip and a temperature range of 32° - 210°F. 
Easily store your dairy thermometer in its sturdy and stylish protective case after each use.
Why we made this
We designed this dairy thermometer because it's impossible to make yogurt and cheese without it.
Compact and efficient, with no batteries, it reads easily and can be cleaned and stored away in its reusable packaging. 
We thought you'd appreciate that it's recyclable and reusable. Mother Nature definitely does. 
Product Specifications
1x Dial thermometer (

5" long stainless steel shaft & 1.37" dial

)


Temperature range of 32°-210°F

Shaft made from

high-quality s340 Stainless Steel

Adjustable pan clip

Cardboard storage tube
Care instructions
Clean probe with warm soapy water, rinse, and dry before storage
Do NOT clean in dishwasher or immerse dial in water
Learn more
If you're starting your home cheesemaking journey, you'll find useful tools on our website, including a Yogurt Maker Starter Kit, Italian soft cheese and blue cheese molds, and our American cotton ultra-fine cheesecloth to drain finer cheese curds.
For more tips and tricks, visit Culture Cupboard. There you'll gain expert knowledge and find answers to a lot of frequently asked questions had by first-time yogurt and cheesemakers.