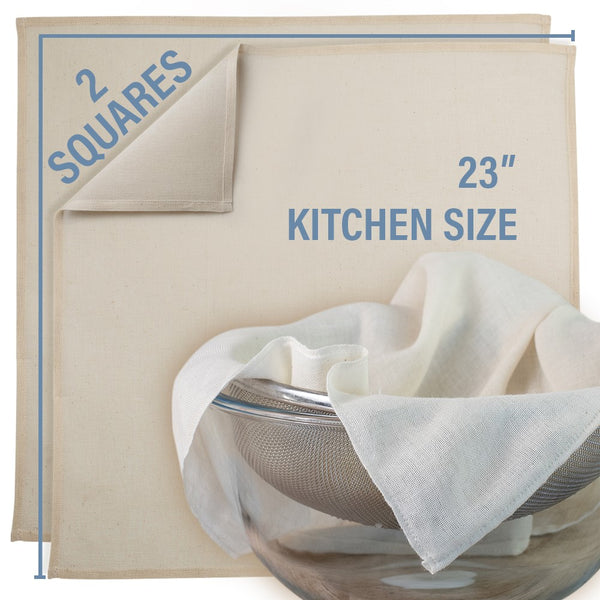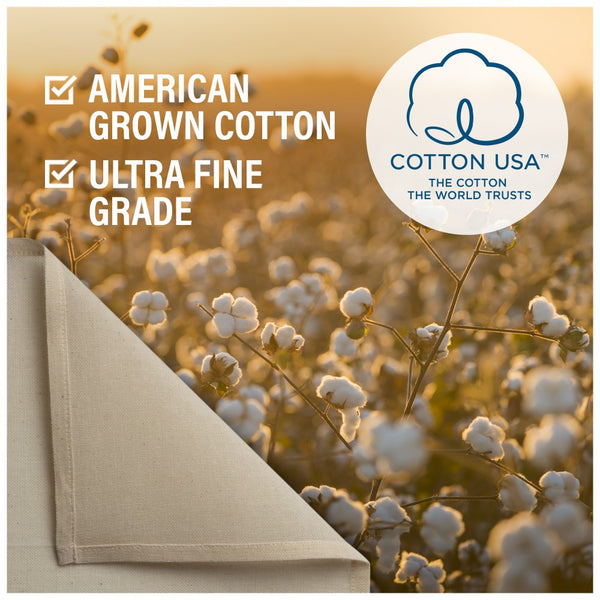 Pre-cut American Cotton Cheesecloth Squares (2 Pack)
It's Hemmed To Be Square 
If you're in need of fine cheesecloth that's pre-cut and hemmed, then you're in luck!
Made of the purest American cotton, and woven extra-fine, these 23" cheesecloths are perfect for draining, straining, and basting.
They're not only great for making cheese, yogurt, and kefir, but use them for,
Straining homemade chicken, beef, and mushroom stock
Easy to clean nut milk bags
Filtering cold brew coffee
Cooking roast dinners
Perfectly hemmed, you'll never have to worry about frays getting into your nut milk or fruit jellies.
Give them a try, we guarantee you'll never use old cheesecloths again.
Why We Made This
When you strain food, you value purity. And American cotton is known for just that,  purity.

We chose 23-inch squares because that's the perfect size for kitchen colanders, and made it a double pack so you can have one in the wash and a spare on hand.

Sometimes cut edges can fray, so we hemmed the squares and made them double thickness for ultra-fine straining.
We love using them in our kitchen and hope you do too.
Product Specification
Two double-layered, 23" cotton cheesecloth squares
Hemmed neatly
Made from American Cotton
Unbleached natural fiber
Grade 90 ultra-fine cheese cloth
Plastic-free card packaging
What can you use it for?
Filter cold brew coffee
Reusable nut milk bags
Strain Greek Yogurt
Filter bone broth stock
Strain cordial and fruit jelly
Product Care
Hand wash in warm soapy water
Rinse and hang to dry
Store when dry and reuse many times
Learn More
For more ideas on how to use this reusable cheesecloth, explore our website. There you'll find everything from a yogurt starter kit and easy fermentation kit to Italian soft cheese and blue cheese molds.
Exactly what I have been searching for!
I have been searching for the highest quality cheesecloth for squeezing every last drop out of our homegrown elderberries.... and I finally found it. Others I used before had a terrible smell when I received them, and even after washing thoroughly, they would continue to turn clean water into murky water. I have only purchased "organic" cotton before, but finally found cotton grown in the USA. the quality of this cheesecloth far exceded my expectations. No odor at all. Highest quality fibers (no tiny specs of fibers breaking off into my elderberry syrup!), ingenious hemmed design with just the right thickness, and strong enough to be used over and over and over again with SERIOUS squeezing and pressing each time. These are my new "go to" cheesecloths from now on!