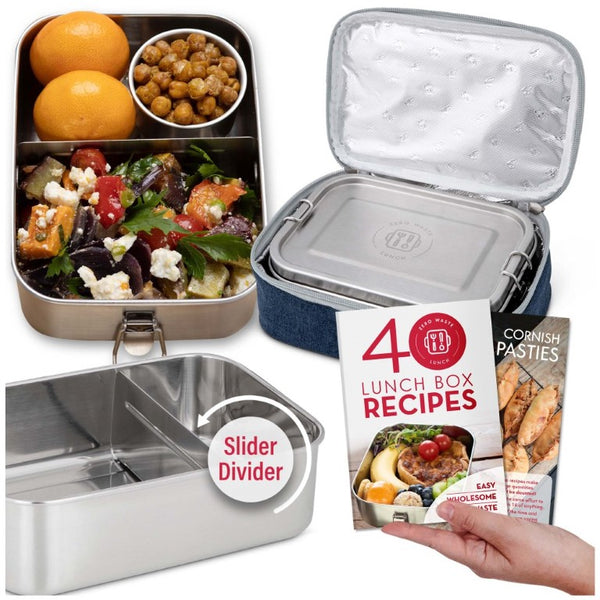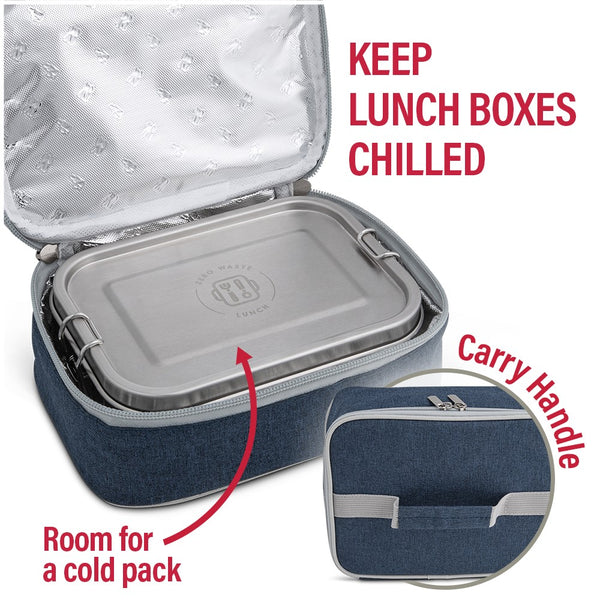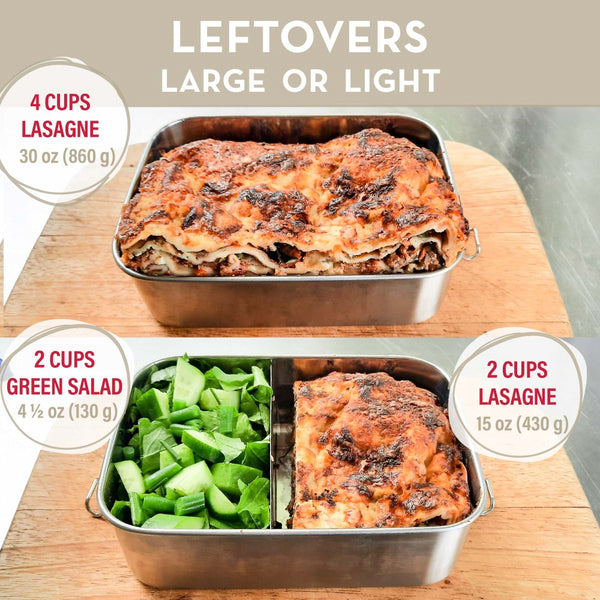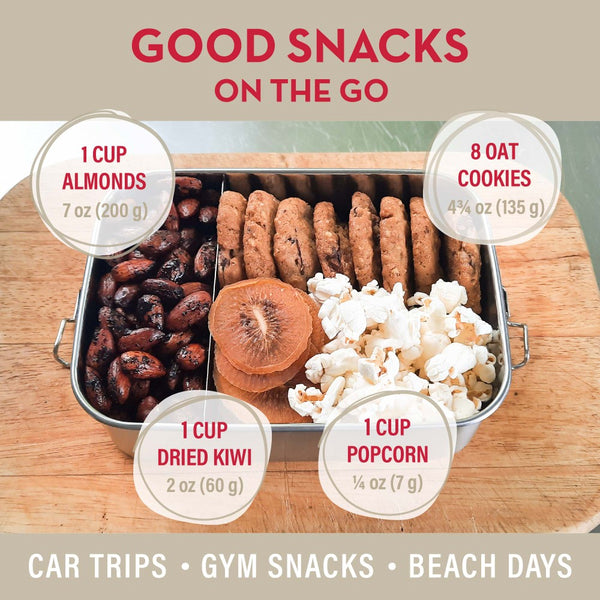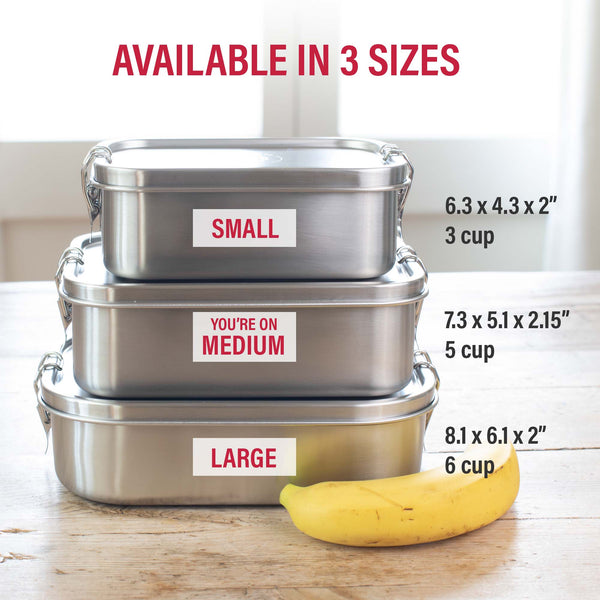 Stainless Steel Lunch Box, Lunch Recipes & Cooler Bag (40.5oz)
This stainless steel lunch box with an insulated lunch bag is the perfect lunch box for kids and teenagers school lunches, an office lunch box for adults to take to work, or a snack container for the gym or car.  
It includes a bento box adjustable divider plus a 100-page book of lunch box recipe ideas.
The Flexible Bento Lunch Box
Configure it to suit your lunch. Put the single divider anywhere.
No fixed internal walls to clean
No tiny compartments to fill
Leave divider out for one big salad  
Put divider in for leftovers, fruit, and muffin
Quality Construction – Leak Proof
Your heavy-duty lunch box won't break or leak.

Stainless steel with a leakproof lid
Sturdy clip-lock clamps, no plastic
Durable hard-shell for teens to adults
Stash & Go Lunch Cooler Bag
An insulated lunch bag for fresh cool food all day.
Fit in a backpack, work bag, or handbag
Room for a chiller ice pack and cutlery
Waterproof easy-clean internal lining
Carry handles, quality stitching and zip
Best Lunch Box Recipe Ideas
The lunch box recipe book gives you:
A month of different lunch box recipes
Make-ahead lunch box ideas and inspiration
Savings in time, money, and plastic waste
This is our medium lunch box, and we also have a large and a small lunch box, so you'll find the right one for your lunch needs.
Size and Capacity
This medium lunch box is 7.3" long x 5.1" wide x 2.15" deep

The lunch bag measures 8.66" long x 6.3" wide x 3" deep

It holds approx 5 cups of food

Lunch box weight 14 oz. Lunch box and bag 18 oz

An ice pack up to 8" x 5.5" fits inside the lid of the bag
What can you fit in this lunch box?
2 cups of salad, 2 small fruits, 1 pot of nuts
1 large sandwich or wrap, a handful of vegetable sticks and 2 biscuits
3 cups of curry and 1.5 cups of cooked rice
Snack box of 2 muffins, 1 cup nuts, 1/2 cup dried fruit, 1 cup vegetable sticks
30 oz (860g) of pasta leftovers like lasagna
We also offer a small and large lunch box in the same design.  This size is the deepest of the three, so if you're a fan of apples, this is the one for you.
Lunch Box Recipe Ideas
It isn't easy to make a great lunch 10 minutes before leaving the house. It is easy to fill a lunch box with yummy things you've already made.
This lunch box includes the lunch box recipe book, with our lunch box system of make-ahead recipes for the three elements of a perfect lunch box.
Variety is key to a good lunch box and a good diet. The 100-page book has enough recipes to pack a different lunch box every weekday for a month!
Are you running dry of recipe inspiration for the kids and husbands lunch box? With these lunch box recipe ideas, anyone who empties a lunch box can help you make ahead the things to fill it. You'll soon notice how much time, stress, and money you save.
We only included recipes that received a "make again please" rating. Recipes for tasty food that travels well and can be frozen, or stored in the pantry. We hope they become your lunch box favorites too.
Materials and Packaging
The lunch box, divider, and lid are 18/8 (s304) food-grade stainless steel

Inside the lid, there is a silicone seal

The bag is a woven cotton outer, wadded insulated inner and wipe-able waterproof lining

There is a 100-page paper recipe book of lunch box ideas

All packed in a zero-waste, plastic-free cardboard gift box
Care Instructions
The lunch box and the lid are dishwasher proof. 

If needed, the lunch bag can be wiped out with a cloth or hand-washed in hot soapy water.

Why we make this lunch box
Buying lunches is expensive and comes with a load of single-use packaging. So we love the idea of great homemade food for lunch and wanted to inspire everyone with our best lunch box recipes.
We focused on fabulous make-ahead recipes and leaned heavily on our freezers so we could assemble delicious lunch boxes 5 minutes before we left the house. 
We had a lot of fun cooking and eating our way through this project.  We hope you find some lunch box ideas for your family.