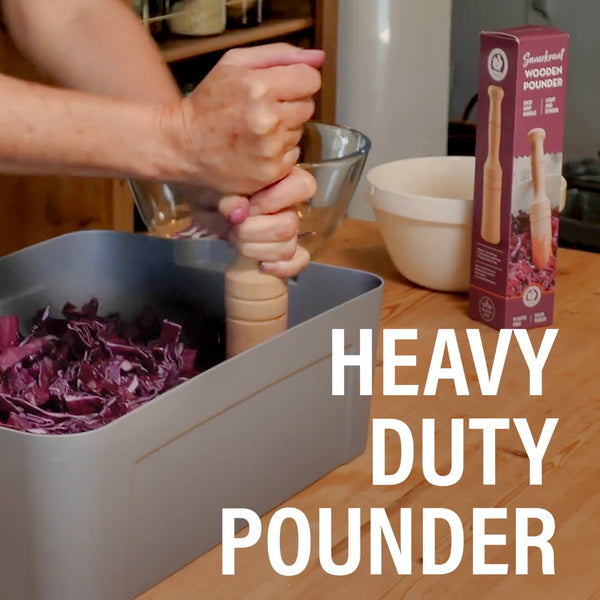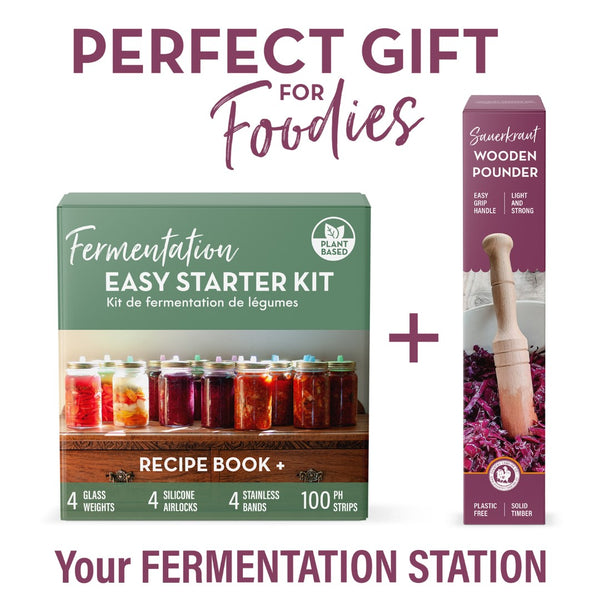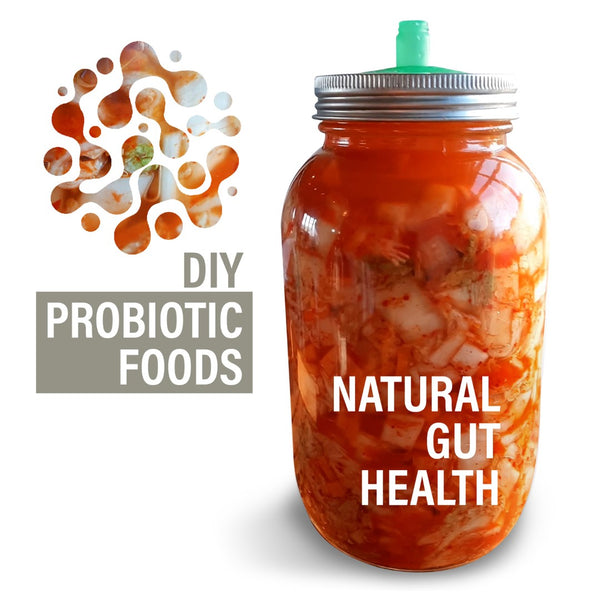 Wooden Sauerkraut Pounder with Easy Grip Handle
The Secret to Create Healthy Fermented Foods from Home
Craving homemade sauerkraut, kimchi, pickles, and other fermented mixed vegetables? Make quick pickled vegetables with this easy to grip wooden pounder.

Known as a kraut crusher, stomper, tamper, plunger, muddler, basher, or masher, this wooden sauerkraut pounder is lightweight and features an ergonomic handle that's perfect for smashing and salting anything, from red cabbage to Asian vegetables.

Our wooden tamper is crafted from a single piece of beechwood timber and designed to last a lifetime. The plastic-free packaging allows you to feel good while you eat well.

Why we made this
In 2018, we led a workshop tour across New Zealand with Sharon Flynn, author of "Ferment for Good."  We made all the lacto fermented vegetables for attendees to sample, and that involved a lot of making sauerkraut in a jar and a lot of cabbage crushing. We soon realized the importance of a lightweight, durable, and easy-to-grip kraut pounder. 
We tried and tested a few prototypes before settling on this wooden sauerkraut pounder. Designed with home fermenters in mind, it is the perfect size for pounding and packing veggies into mason jars. Whether you're new to making ferments or are a pickling pro, we guarantee you'll love this product.
Product Specifications
1 x wooden sauerkraut tamper – 10-inch long with a 2-inch wide stomper face

Easy to grip handle, lightweight but durable (weighs a 1/2 lb.)

Made from a single piece of solid beechwood with no glue

Plastic-free product in a lovely gift box
Care instructions
Do NOT season with oil

Hand wash in hot water

Rinse and dry before storing

Sterilize with boiling water before use
Learn more
If you're new to pickling vegetables at home or curious about fermented vegetables, check out our Easy Fermentation Starter Kit. 
It includes a recipe book where we share our fermenting cabbage recipe for making sauerkraut and tips on fermenting veggies.
We show you how to make a sauerkraut brine, pickled Korean vegetables, and red cabbage sauerkraut.
Whether it's veggie kimchi or fermented sauerkraut, we have the best pickled veggies recipes for you. 
Good Quality
I am pleased with the quality of the wooden stomper/wooden pounder that I got from this store. It doesn't feel cheap at all. I'll try to update this review after I've used it to make sauerkraut. On the other hand, I think they need to work on packaging their stuff a little better next time.